Women of Zion
The Women of Zion organization is striving to be relevant to the lives of a wide spectrum of Zion Women within the framework of the Purpose Statement of the Women of the ELCA. We commit ourselves to grow in faith, affirm our gifts, support one another in our callings, engage in ministry and action, and promote healing and wholeness in the church, the society, and the world.
Saturday, May 6, 9:30 am
Women's Brunch - Fellowship Hall
Contact

Sherilyn Burgdorf
Building

Fellowship Hall
Kitchen
Narthex
Trinity Hall
Webpage

Women's Event
Women's Ministry
Bouquet of Blessings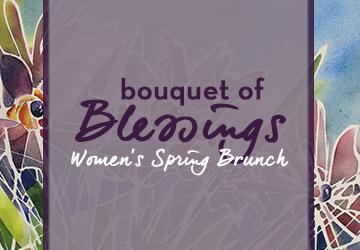 I am the vine, you are the branches...abide in my love.
John 15:5,9
This year's theme will send everyone into the growing world of the garden. What do those flowers have to say? 
Susan Palo Cherwien
This will be Susan's second visit to Zion. The first was for Zion's January hymnfest where Susan presented reflections to accompany husband/organist, David Cherwien. Susan is "well rooted" as an avid gardener, a former nursery worker, and a writer of wonderful poetry and hymn texts. At this event, she will dig into the theme, using her creativity as a writer. 
"The theme is especially relevant to me, as I worked at a nursery for 15 years, and gardening is one of my great joys. If one looks over the hymn texts I have written, the raft of nature images becomes pretty obvious!"
The Rainbow Singers
Come and enjoy the songs of Zion's Rainbow Singers, friends who blend in a wonderful bouquet of sound. 
Sherry Christenson
Sherry is the founder of Designs by Charlotte, bringing color home in floral arrangements and container gardens. See her work at 
dbcharlotte.com
.
Delphia Cello Quartet
New to the Twin Cities music scene, the Delphia Cello Quartet is an all-female cello quartet based in the Twin Cities. Delphia plays and sings original arrangements, from pop songs to jazz standards to choral hymns. Learn more at 
delphiacelloquartet.com
.
Cost is $12/adults and $4/12 years and younger, and includes brunch catered by Cornerstone Cafe.
Women of the ELCA
The cross, water and white lily identifies the Women of The Evangelical Lutheran Church (WELCA) as children of God; baptized, forgiven and adopted into God's family, full of grace and hope in eternal life.It is a reminder of the growth, beauty, and vitality that rises out of that life-giving baptismal water.It is also a reminder of the mission of the church.
Go, therefore, make disciples of all nations; baptize them in the name of the Father and of the Son and of the Holy Spirit. Matthew 29:19
Calendar
May 6, 2017

Women's Brunch

May 16, 2017

Naomi Circle

May 18, 2017

Rebecca Circle
Portals of Prayer
The Women of Zion provides Portals of Prayer daily devotion booklets to the congregation. Each devotion features a Bible reading, meditation, and prayer in an easy-to-read format (both regular and large print). Portals of Prayer is great for personal devotions, and these timeless devotions can be used to open meetings or launch Bible studies. Ask for your copy in the office or at the information desk.
Contact Us
If you have any questions about Women of Zion, would like to join a circle, or be part of the Women of Zion planning team, please contact Phyllis Bengtson or Sherilyn Burgdorf.