Find a Small Group    Volunteer Opportunities    Full Calendar
Events & Registration Forms
April 28, 2017
SERVE Weekend - Narthex
Building

Narthex
Webpage

SERVE Weekend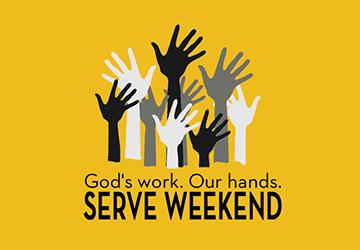 SERVE with others from Zion, meeting new people.
SERVE at Zion, to go above and beyond the normal day's duties.
SERVE in the community, putting hands to work beyond Zion's walls.
On April 28-30, Zion will host the fourth annual SERVE weekend.
A full list of serving options is available here late-March and will be mailed to homes. All SERVE options are short-term, mostly 1-3 hours in length. Some opportunities will be especially suited for families with children, others for youth and adults. Some of the outdoor SERVE options have a "flex date" listing for the best weather date during or around SERVE weekend. 
Projects include Cookies for Caregivers ~ Cat mats for Crossroads Animal Shelter ~ Fleece tie blankets for families in need ~ Garden care at Zion ~ Senior at-home yard projects ~ Baby Animal Fair booth hosting ~ Days for Girls sewing/packing ~ VBS decorating projects ~ Blessing Closet distribution ~  Bike and helmet give-away ~ Lawn care at Zion ~ Food for Friends cooking & delivery ~ Food Shelf stock & sort ~ Cemetery clean up ~ Playground assembly ~ Care center "Spring Caroling" ~ Games & ice cream social at Parkview
Friday, April 28, 11:00 am
Erich Scheie Funeral - Sanctuary
Building

Sanctuary
Webpage

Funerals
Erich Scheie passed away on Wednesday, April 19. Funeral service will be held at Zion at 11am on Friday, April 28, with visitation from 10. Additional visitation Thursday, April 27, from 4-8pm at Peterson Chapel. 
Monday, May 1, 6:30 pm
Bible History Class - Library/Chapel
Contact

Rick Johnson
Building

Library/Chapel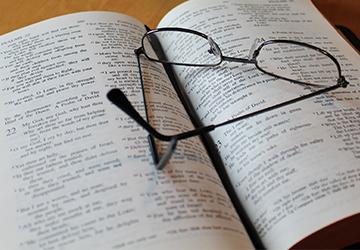 Rick Johnson will present this class, focusing on the time period between the end of the Old Testament and the beginning of the New Testament. The class will cover the period of Greek and Roman control of Israel up to the birth of Jesus. 
Class will meet on 8 Monday nights in the Moses room, beginning March 20. This class is for anyone interested in Old Testament/ New Testament history whether you have been in any previous classes or not. 
Saturday, May 6, 9:30 am
Women's Brunch - Fellowship Hall
Contact

Sherilyn Burgdorf
Building

Fellowship Hall
Kitchen
Narthex
Trinity Hall
Webpage

Women's Event
Women's Ministry
Bouquet of Blessings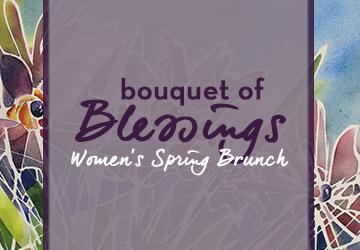 I am the vine, you are the branches...abide in my love.
John 15:5,9
This year's theme will send everyone into the growing world of the garden. What do those flowers have to say? 
Susan Palo Cherwien
This will be Susan's second visit to Zion. The first was for Zion's January hymnfest where Susan presented reflections to accompany husband/organist, David Cherwien. Susan is "well rooted" as an avid gardener, a former nursery worker, and a writer of wonderful poetry and hymn texts. At this event, she will dig into the theme, using her creativity as a writer. 
"The theme is especially relevant to me, as I worked at a nursery for 15 years, and gardening is one of my great joys. If one looks over the hymn texts I have written, the raft of nature images becomes pretty obvious!"
The Rainbow Singers
Come and enjoy the songs of Zion's Rainbow Singers, friends who blend in a wonderful bouquet of sound. 
Sherry Christenson
Sherry is the founder of Designs by Charlotte, bringing color home in floral arrangements and container gardens. See her work at 
dbcharlotte.com
.
Delphia Cello Quartet
New to the Twin Cities music scene, the Delphia Cello Quartet is an all-female cello quartet based in the Twin Cities. Delphia plays and sings original arrangements, from pop songs to jazz standards to choral hymns. Learn more at 
delphiacelloquartet.com
.
Cost is $12/adults and $4/12 years and younger, and includes brunch catered by Cornerstone Cafe.
Sunday, May 7, 11:30 am
New Land Use Open Forum - Library/Chapel
Contact

Dave Tauscher
Building

Library/Chapel
The mission of the New Land Use Task Force is to determine how to best utilize the new property to fulfill Zion's Mission Statement. Learn more or make your suggestions at this open forum.
Monday, June 12, 9:00 am
Vacation Bible School - Trinity Hall
Building

Trinity Hall
Webpage

Summer list of CFM programs
VBS Event Date
VBS Event List
It's the new year and planning for VBS 2017 has begun! This years' theme is "Maker Fun Factory: Created by God, Built for a Purpose!" (June 12-16, 9am–Noon), and we think it'll be the best year yet! 
Registration will be capped again at 360 kids (100 preschool and 260 K-4). 

Completed 5th graders who attend training (June 1, 6-7:30 pm) can help as Assistant Crew/Station Leaders! 
Mark these dates on your calendar and be ready to register on March 19!
Online registration opens March 19
Sign up by March 29 and get your CD/T-Shirt FIRST (beginning April 14)!

Online registration remains open (if you register after March 29 your CD/T-Shirt will be available for pick up starting May 3)

Registration closes at midnight on May 30 or when all spaces are filled (which could be earlier)
July 9, 2017
Camp Wapo
Webpage

Summer list of CFM programs
Kids in grades 2-12 are encouraged to attend a formative, life-changing week/end with Zion at Lake Wapogassett Lutheran Bible Camp in Amery, WI!! 
Youth (grades 4-8) July 9-14; $320 (after the $100 Zion Foundation scholarship)

TIM Team (grades 9-12) July 9-14; $330 (after the $100 Zion Foundation scholarship)
SEEDS (grades 2-3) July 14-16; $110 (after the $50 Zion Foundation scholarship)
NEW! One-Day Experience (grades 1 and up) Wednesday, July 12, 8:30am-4pm; $25
The Zion Foundation has generously agreed to provide scholarships for camp again this year ($100 for Youth/TIM campers and $50 for SEEDS)! Zion staff is present the entire camp experience to connect with kids on a regular basis. Scholarships are available... we want everyone to be able to attend!

July 23, 2017
High School Mission Trip
Contact

Pr Suzi
Webpage

Youth+Children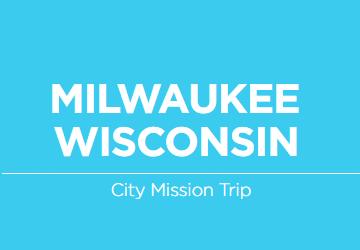 Journey with Zion's senior high students to Milwaukee!  The 2017 summer mission trip team will travel to serve with the people of the great city of Milwaukee, Wisconsin from July 23-29.  
Total cost for trip will be approximately $650/person, and fundraising will be available.  

A deposit of $150 is required to secure your spot.  Space is limited.   

Tuesday, August 8, 7:10 pm
Lutheran Night at the Twins
This year's Lutheran Night at the Twins is a 7:10pm game vs Milwaukee Brewers. Zion has a block of 25 seats in section 103 (rows 13-15). Cost is $36. Contact Joan Halderson at 763-682-3389 to reserve one of these seats. Transportation is on your own this year.
Collections & Special Information
April 16, 2017

Baby Animal Fair Coin Banks

April 26, 2017

Blessing Clothing Closet Collection

April 30, 2017

High School Mission Trip Stock Sale

May 7, 2017

VBS Collection

May 14, 2017

Coffee Sales & Global Missions Info