Membership Information
Membership is not necessary to participate in the life of the congregation, including worship, communion, children's ministry, and other activities.
However … Membership is what moves many people toward feeling like Zion is their church. 
Becoming a Member of Zion
Most often, individuals become official members of Zion by attending a new member orientation and affirming membership at Zion, after being baptized at another church. A New Member Orientation is held about 3 times each year, focused on getting to know the staff, and other members. There will also be a brief overview of Lutheran Christian beliefs and practices, the ministries of Zion, and expectations of members.
Wednesday, April 19, 6:40 pm
New Member Orientation - Fellowship Hall
Building

Fellowship Hall
Webpage

New Member Orientation
Sign Ups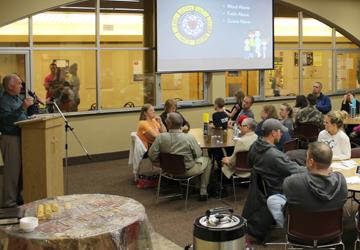 This orientation to membership provides an introduction to Zion ministries and staff, an opportunity to meet others at Zion, and a little about what it means to be Lutheran. Those who decide to become members will be formally received into our congregation on Sunday, April 30. The orientation will include:
The staff and Outreach Committee will join you for Wednesday night Supper (served from 5pm, suggest you come around 6pm).
Meeting begins around 6:40pm and will end around 8pm.
Child care and activities for children will be available after the meal if requested in advance.
Plenty of informal conversation with staff, existing members, and other prospective new members.
An overview of a wide variety of Zion programs and ministries.
Zion Pastors briefly introduce what it means to be Lutheran.
Your photo will be taken for the reception (or you may email your own photo to Angela in advance).
Information for church records will be verified.
Sign Up Now
Others become members of Zion by:
Individuals do not become members by
Marrying a member of the congregation
Having a child baptized or confirmed at Zion (although the child will become a member)
Worshiping or other participation at Zion
Voting Members
According to Zion's constitution, voting members are confirmed members who have both communed at Zion, and made a contribution of record in the current or preceding calendar year.
Zion's Bylaws (BL5.01.) describes circumstances where an inactive member may be removed from the church membership rolls.
Membership Updates
Zion maintains a database of members and friends of the congregation. Please let us know if your contact information or family situation changes.